Europe has made significant progress in improving health outcomes, with increased life expectancy and better management of diseases. However, the continent still faces challenges such as an aging population, a higher prevalence of chronic diseases, and the need to strengthen the resilience of healthcare systems in the wake of pandemics, such as the COVID-19 crisis. Additionally, there is a growing recognition of the importance of prevention, primary care, and integrated care.
One area that has the potential to address these challenges is the intersection of health and space. Emerging technologies and new business models are creating opportunities for innovative solutions, where also space can play a role and bring added value to the healthcare sector, including medical and biomedical research, telemedicine and digital health, and public health management.
An overview of such potential is provided in the report on Health innovation trends and opportunities for space businesses, and at the ESA workshop that on the 19th April connected – at ESA ESTEC premises – experts, industries, start-ups and researchers, exchanging ideas on how to integrate cutting edge technologies and develop innovative services, thanks to the benefits that space can provide to the medical sector.
The untapped potential of Earth Observation for the health sector has been investigated through a series of EO Science for Society activities dating back to 2019, as illustrated in the following image and including pilot projects, publications, workshops, etc… More details can be found in this website's dedicated pages (e.g., starting from EO and AI for Health and Urban Resilience).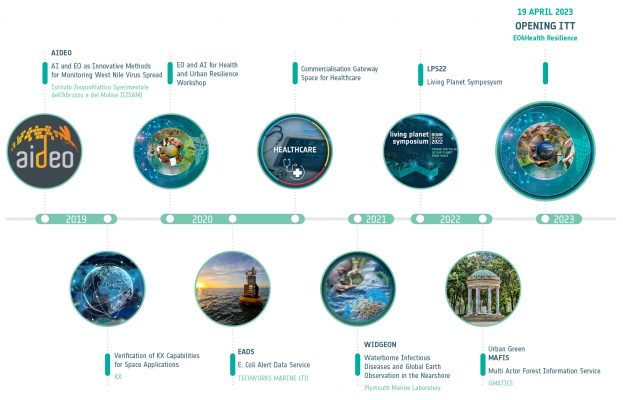 In-depth scientific discussions on the EO potential for health also took place at the latest Living Planet Symposium in Bonn. A few of the presentations are still accessible from this post.
In the context of Space for public health, ESA has also organized a capacity building program including weekly on line trainings, symposia and internships. For more details on the on-going activities, related to aquatic ecosystems and waterborne diseases, please refer to this training page and register for online participation here.
Starting from this sound and rich background, an Invitation to Tender for a new activity called EO4Health Resilience has just been released and a variety of key stakeholders are invited to take part in it. The activity is meant to be run following an agile approach hence the users' needs will be addressed through iterations and fine-tuning over a two year span.
The ecosystem of users and stakeholders involved in this activity will include, in addition to the traditional EO services companies:
NGOs: any interested entity in the medical assistance domain may get registered on esa star and declare their interest in joining the activity as a user or as contractor of a consortium.
Start-ups: once started, the activity will issue a challenge for up to 50keuro worth prize and the winning start-up(s) will work closely with the consortium in an open innovation environment from there on.
Large entities from the health sector: agreements for cooperation are already in place with WHO and FAO, additional ones are in discussion with ECDC and EMA.
Don't wait! Get involved in shaping the future innovative solutions for Europe's healthcare challenges.