INTRODUCTION
The African Research Fellowship (ARF) program, jointly carried by ESA with the African Union Commission, was successfully initiated in 2021 with two African fellows selected to carry out their research in ESA in 2022. It aims at empowering African Researchers (PhD or Master degree with extensive research experience) to carry out Earth Observation (EO) R&D activities relevant for the EO AFRICA Initiative. The African Research Fellows shall maximise the use of EO data in synergy with in-situ and state-of-the-art modelling approaches, in a cloud environment, to respond to the challenges the African continent is facing with respect to: water resources management and food security.
With this call, ESA offers 1-year fellowships to four African Researchers to work at the ESA-ESRIN premises in Frascati (Rome, Italy) in collaboration with ESA's scientists .
OBJECTIVE
EO AFRICA stands for African Framework for Research, Innovation, Communities and Applications Building an African-European R&D partnership. It aims to build an African-European R&D partnership to facilitate the adoption of Earth Observation and related space technology in Africa, in full coordination with the operational GMES & Africa initiative led by the AUC. The initiative is driven by African user needs, and follows a long-term vision (>10 years) for the emergent digital era in Africa. The new generation of African researchers can boost R&D in Africa, and with this call they will be empowered to develop innovative and reliable evidence-based solutions exploiting EO data, enabling policy makers and the civil society to address social/environmental/economic policies.
The African Research Fellowship aims to achieve this objective by:
R&D activities undertaken with EO data by the young African researchers with focus on major African challenges and knowledge gaps, which may support Africa and global environmental and development agendas.
Exploiting ICT capabilities that help to maximise the use of Earth Observation data available over the continent, and promoting an open science approach where sharing data, results and knowledge is at the core of the value chain.
RESEARCH AREAS
Candidates shall propose a 1-year R&D proposal contributing to Water resources management or Food security issues supported by the exploitation of Earth Observation satellite data. Proposals focusing on smallholder needs (e.g. farming, agricultural water use, regenerative agriculture, water productivity, irrigation systems, nutrients management, infestations…) or related to coastal processes (e.g. ecosystems, coastal waters, coastal geomorphology and change, coastal urbanization, tourism…) and fisheries (e.g. aquaculture, habitat suitability, blooms, implications of climate change…) are especially welcome.
The activity will be coordinated and aligned with the EO AFRICA R&D Initiative which provide training opportunities and scientific tools for the selected African research fellows. The EO AFRICA Space Academy and its Digital Campus will give access to a wide range of expertise and knowledge to be shared with research fellows. Whereas the EO AFRICA Innovation Lab will allow the African research fellows directly collaborate with European scientists and implement their research ideas.
The needed documents to apply are:
Research Proposal (use the template provided with the ARF package)
CV with most recent publication list. Such document containing both the CV and publication list shall not be longer than 3 pages max
Copy of ID (preferably passport)
Scan of PhD or Master Diploma
2 Reference letters
Please find below a zip file containing:
more technical information about the general tasks to be covered by the proposal and logistic aspects

the template for proposal submission

the privacy notice
Download the package to apply for the call
IMPORTANT DATES
Open call                                                  1 February 2023
Submission of Proposals                       31 March 2023
Communication of Results (tentative) Mid May 2023
Beginning of Activities (tentative)         4th quarter 2023
Any questions relating to this Call must be sent, by e-mail to arf@esa.int, not later than one (1) week before the Closing Date.
Follow this link to apply to the African Research Fellowships
FEEDBACK FROM THE 2022 RESEARCHERS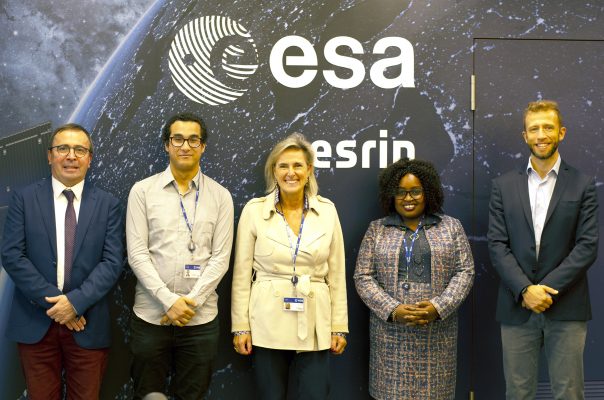 The ARF fellowship at ESRIN was an incredible opportunity. It allowed me using new Earth Observation technologies to analyse the shortage of water resources in Morocco. Indeed, I used the "Innovation Lab" of the EO Africa R&D facility, to access and process a large dataset of remote sensing data. Then, after several exchanges and discussions with EO experts in ESRIN, I analysed the outputs and explained the potential sources of the water crisis in Morocco. The ARF experience allowed me also learning about the workings of ESA, their politics and adding so many incredible individuals to my network of colleagues and friends.
Dr. Wassim M. Baba
Through ARF fellowship, my first four months at ESRIN has been a huge learning curve. EO AFRICA initiative has a robust capacity building programs that immediately introduced me to new methods and datasets that I could adopt in my own research, learn how to code in python, and work with cloud computing platform. ESRIN has pushed my boundaries, opened my mind to new way of thinking and leapfrogged my research skills!
Dr. Gladys Mosomtai