The "Euro Data Cube Facility" service contract was Kicked-off on April 23 for a project duration of 3 years, focusing not just on development of innovative product, but mostly on an operational service to be used by millions of people around the world. An initial portfolio of services will be available after 6 months and the complete offer after 12 months. The project foresees a service evolution, driven by user needs, along the remaining 2 years and will contribute to the OGC standardization activities, including federation with other Data Cube initiatives worldwide.
What is the Euro Data Cube Facility role
The Euro Data Cube Facility aims to offer a service in the Platform services layer (see figure below), within the EO platforms eco-system.  It is thought as an "engine" connected to the cloud-based infrastructures (e.g. DIAS systems) already hosting huge data volumes, that presents such data in an "analysis ready" format to the upper exploitation layer where toolboxes and virtual labs are at end-users disposal for their application/thematic usage. The Euro Data Cube Facility is also an open EO factory where value adders can plug-in their own algorithm to generate and deliver industry leading services, easily integrated in user-facing web applications, further enriching the information offer. It contributes to the strategy to "bring space out of space" i.e. from the restricted Space Community to the larger Geospatial (GIS) Community and finally to the end-users assisting them at various tasks.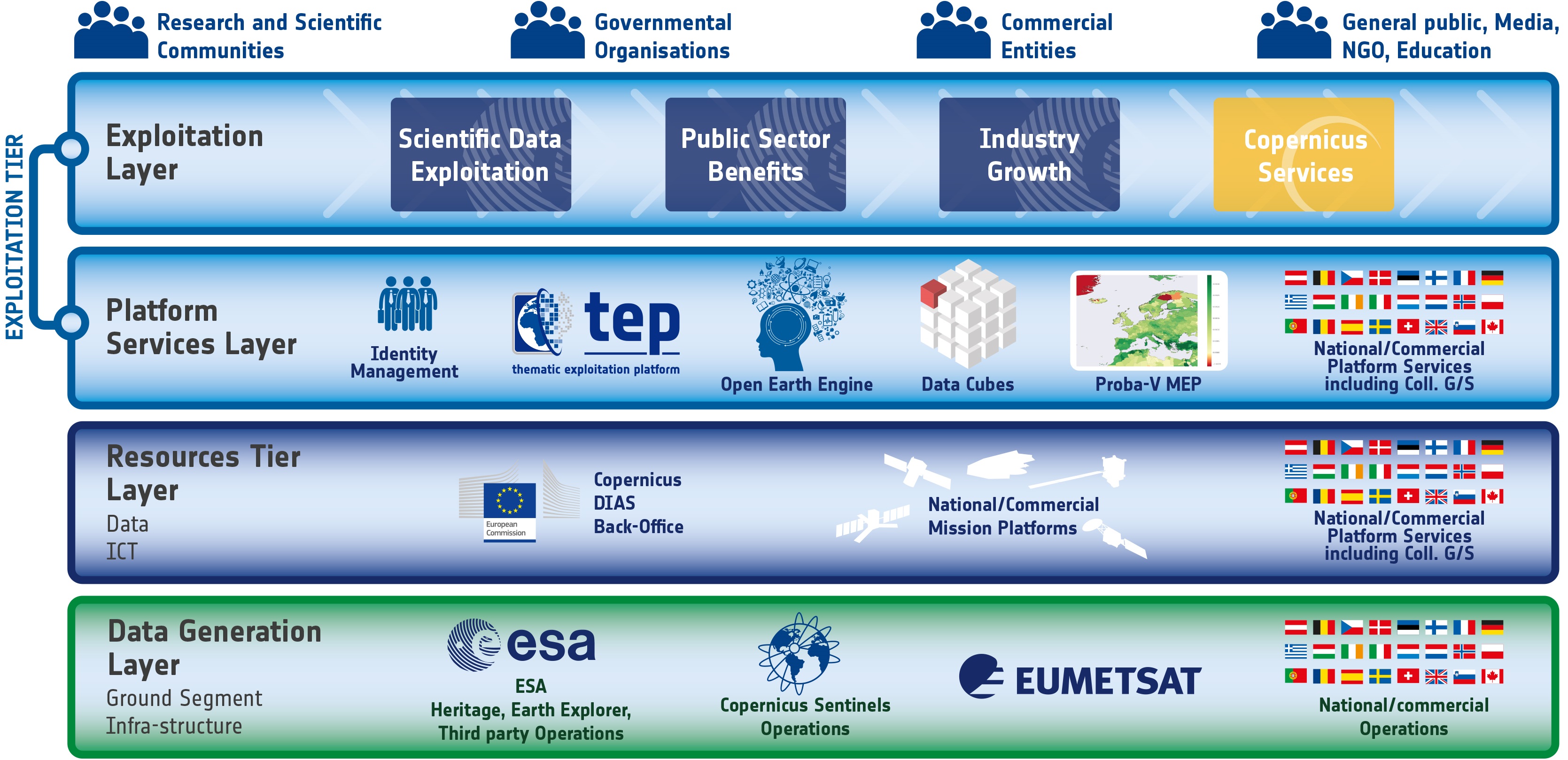 A service built on top of existing solutions
The Euro Data Cube Facility service builds upon several already operational, state-of-the art solutions:
on-the-fly data cube access service (Sentinel Hub)
mass processing Sentinel Hub services with asynchronous response
versatile pre-generated data cubes (XCube), based on xarray like the CEOS Open Data Cube, Pangeo, and other leading data cube initiatives.
It therefore offers Analysis Ready Data from L2 to L4 as well as non-EO data for a wide range of applications that can be tailored according to user specific needs.

Which service functionalities
The Euro Data Cube Facility service will enable:
information layer publishing
on-demand mapping
cross-mission analysis.
It will support various thematic use cases (starting with Geo-rice, U-TEP, vegetation status, chemical weather monitoring, inland water quality and fast expanding to others), becoming also the engine of the ESA Earth System Data Lab and various other applications.
It will offer subscription packages (monthly/annual) and pay-per-use for a basic usage and further advanced options (including customization to user needs), e.g.:
new (complex) algorithm/processing chain on mass processing and XCUBE
pre-processing and storage for XCube
additional modules.
The service's evolution will benefit all users as they will become a part of the standard offering.
The Euro Data Cube Facility service actively contributes to the related standardization activities (e.g. OGC) to foster the federation of Data Cubes (e.g. CEOS Open Data Cube) and maximize overall interoperability – in the EO platforms eco-system context – also aiming as being part of the ESA Network of Resources.