12th Advanced Training Course on Land Remote Sensing
September 25

-

September 29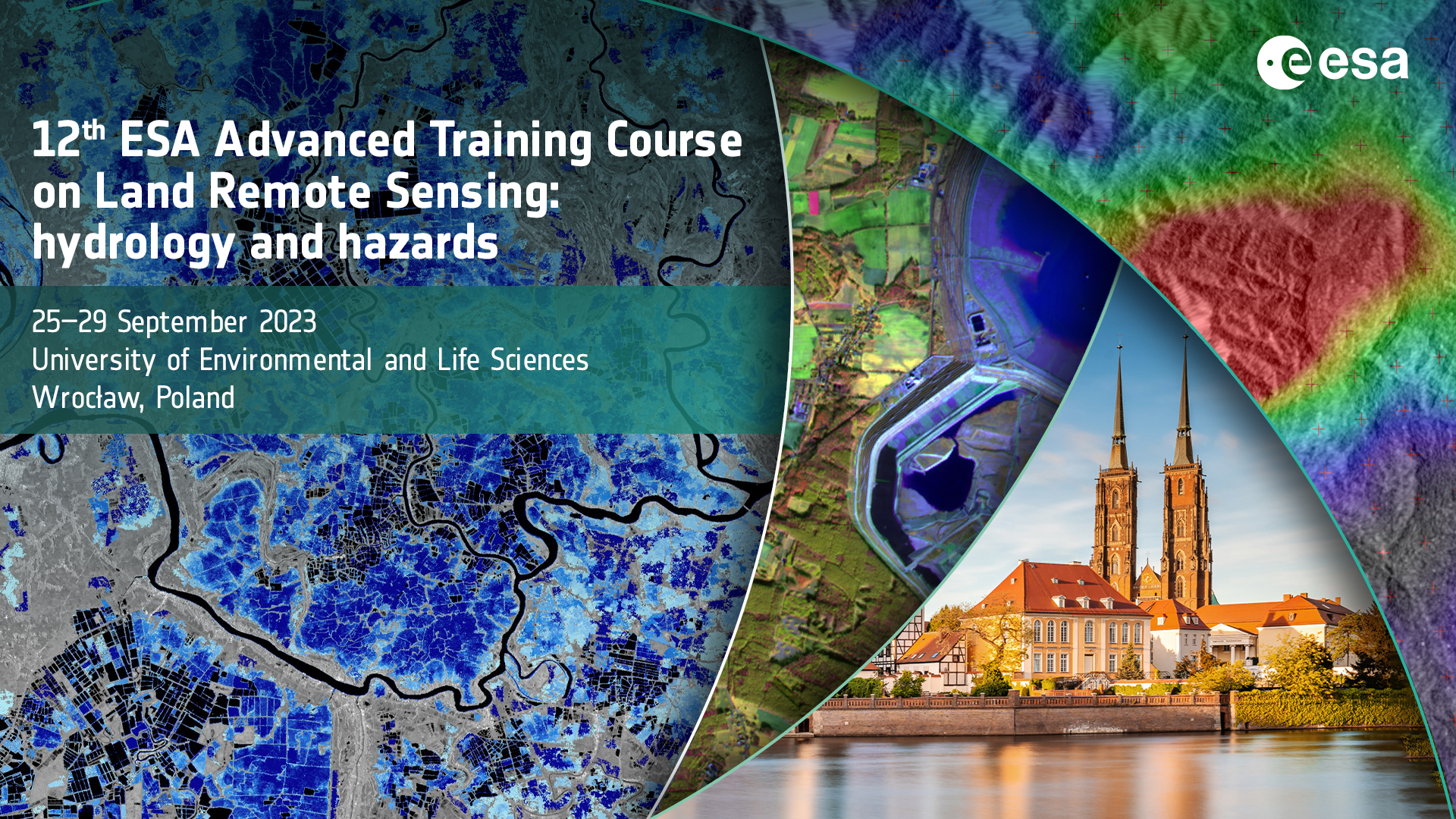 Background
The European Space Agency (ESA) organised an Advanced Training Course on Land Remote Sensing with the focus on Hydrology and Hazards in collaboration with the Wrocław University of Environmental and Life Sciences. This course was dedicated to train the next generation of Earth Observation (EO) scientists and experts, working in the domains of hydrology or related hazards, in using data from Copernicus Sentinels and other satellite missions for science and applications development. The course is part of the EO Science for Society element of ESA's FutureEO programme.
Objectives
The Advanced Training Course on Land Remote Sensing – EO for Hydrology and Hazards aimed at:
Training the next generation of scientists and professionals on remote sensing for hydrology and related hazards
Explaining the theoretical principles, processing algorithms and data products from multiple sources including optical, thermal and microwave EO data for hydrology and hazards
Introducing tools and methods for the use of EO satellite data, in particular the Sentinels and new SAR missions
Stimulating the use of EO in the domains of water cycle science, water management and hazards such as landslides, floods and drought
Demonstrating cloud-based, large-scale processing of EO data
Topics
The training included theory and hands-on sessions on the following topics:
Introduction to status of relevant missions including Sentinels in operation and under development
Introduction to optical and SAR remote sensing for water and hazards
Detection of water level changes and embankment safety
Estimation of land surface temperature, evapo(transpi)ration and soil moisture
Irrigation mapping, detection and quantification
Drought monitoring
Detection and monitoring of hydrology-related hazards or their risk, including landslides, floods and droughts
Measuring and monitoring of inland water quality
Multisource data analysis
In-situ data collection and preparation
Training on the use of SNAP toolbox
Participation
The 5-day course was held from 25 to 29 September 2023 at the Wrocław University of Environmental and Life Sciences, Poland. Post graduate, PhD students, post-doctoral research scientists and professionals from European countries and Canada interested in the applications of Earth Observation in Water cycle, hydrology and hazards were invited to apply for the course. Research scientists, students, EO professionals from all other countries were also welcome to apply, subject to availability of space.
For further information, please go to the main website at https://landtraining2023.esa.int
The lecture and practical materials used on the course are available here:

#ESALTC2023