SELPER/CEOS WGCapD Training Course – Remote Sensing Applications to Floods, Droughts, fires, and landslides (Spanish)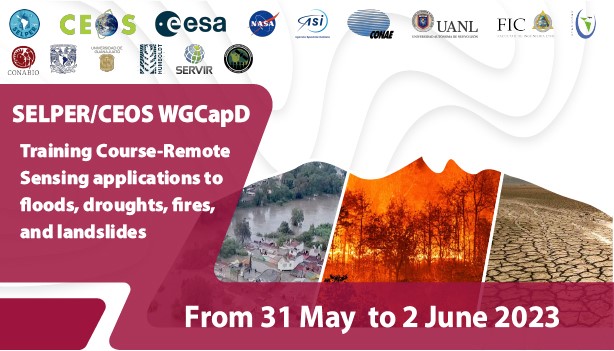 The application deadline is 20th May 2023. Register HERE.
This is a training course on the use of satellite data for floods, droughts, wildfires, and landslide applications. Note that the course will be mainly in Spanish with some parts in English.
The Mexico Chapter of the Sociedad Latinoamericana en Percepción Remota y Sistemas de Informatión Espacial (SELPER) and the Working Group on Capacity Building and Data Democracy (WG CapD) of the Committee on Earth Observation Satellites (CEOS) are organizing the course. It is co-organised by the European Space Agency (ESA), The National Aeronautics and Space Administration (NASA), the Italian Space Agency (ASI), the comisión Nacional de Actividades Espaciales (CONAE) representing the WGCapD, and the Universidad Autónoma de Noevo León (UANL) through the School of Civil Engineering and the Department of Geomatics representing SELPER. The course instructors will also come from institutions from Latin America (Mexico Campus of CRECTE-ALC, CONABIO, Unviersidad Nacional Autónoma de Mexico (UNAM), Universidad de Guanajuato, Instituto Alexander Humboldt, Colombia.
Programme:
The course is a re-run of the October 2022 SELPER/WGCapD EO training course with some updated elements. The course will focus the following topics:
Fundamentals of satellite remote sensing.
From where and how to download satellite data.
Satellite Earth Observation in detecting droughts, fires, and landslides.
Use of optical and radar data in floods and droughts applications.
Mapping of flooded areas using Sentinel-1 data.
Tools including QGIS, SNAP, and Google Earth Engine.
SAOCOM satellite data and its potential applications.
Insights towards disaster management in Latin America.
Participants:
The course is aimed at professionals from institutions with disaster management, civil protection, or urban development functions, university researchers and students, individuals from professional societies and associations of the Latin American and Caribbean region.
Applicants should be familiar with the use of satellite images.
The course will require participants to supply and use their own laptop. For the practical exercises, the laptop should fulfil the following minimum requirements: a two-core processor or better, 8GB of RAM, free hard drive space, a good internet connection.
The number of participants will be limited.
Important information and registration:
The course will be in English and Spanish.
The course will be offered in hybrid from 31 May – 2 June, 2023. The course can be attended online using Microsoft Teams, or in person at the Institute of Civil Engineering in Monterrey, Mexico. 
The application deadline is 20th May 2023.
For more information, and to apply for the course: Click here!