A new processing chain is available on the Geo-hazards Exploitation Platform (GEP).
Its core is the avalanche detection method demonstrated in an open call project led by Norce.
Taking advantage of the geo-hazards community platform's new capabilities, anyone can exploit the simple, intuitive user interface and process Sentinel-1 data to detect and monitor avalanches on any geographic area and period of interest in a scalable way, on the cloud.
Here follows a sample use case of the avalanche mapping tool (AVAMAP) integrated on GEP.
The selected area of interest is the Lavangsdalen valley in Northern Norway. Lavangsdalen is characterised by steep slopes and hosts the main road leading to the city of Tromsø. Avalanches in the valley are frequent and often very large, reaching the main road. Multiple incidents have been reported where the road has been closed and even cars have been completely buried in avalanche debris. One such event can be seen in this example.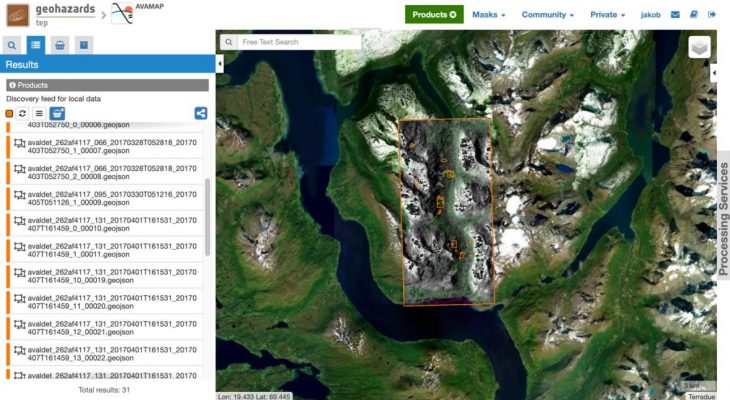 In the next figure, avalanche detection is highlighted. The depositional part of avalanches, so-called avalanche debris, is shown as a polygon. As can be seen, the debris extends over the main road and in this case also burying a car with the driver. The incident was reported in multiple Norwegian media [1].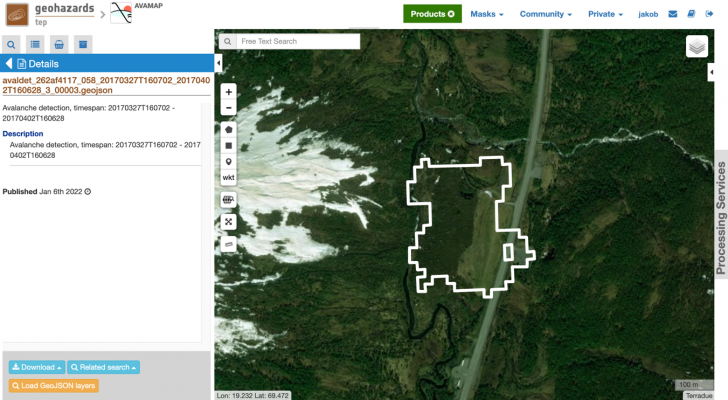 Read more on the pitfalls of traditional avalanche forecasting and on the EO-based method details, advantages, and potential in the related web story.
[1]
https://www.vg.no/nyheter/innenriks/i/5aXLm/her-satt-odd-ivar-begravet-i-snoemassene
https://www.nrk.no/tromsogfinnmark/i-denne-bilen-satt-odd-ivar-da-skredet-kom-1.13452150
https://www.nordlys.no/skred/lavangsdalen/odd-ivar-havnet-midt-i-raset-forst-kom-snofokket-sa-begynte-det-a-riste-og-smelle/s/5-34-602112
https://www.itromso.no/nyheter/2017/03/30/Her-sitter-Odd-Ivar-begravd-i-skredet-Det-var-en-helt-j%C3%A6vlig-opplevelse-14526361.ece