Get involved in the first ever Open Earth Forum (OEF) at upcoming Living Planet Symposium 2022 !
Why an Open Earth Forum?
Ever increasing EO data volumes, more specialised skills and techniques for effective extraction of value added information: this is the context which led to defining the bring the user to the data paradigm more than a decade ago.
But how far have we gotten?
Are you fully aware, regularly exploiting and satisfied with the cloud-based capabilities for EO data access, processing and analytics available in Europe? Is abstraction of underlying complexity a central ambition that would allow you to work more effectively?
These are some of the questions we would like find answers to with your help, through the Open Earth Forum. The collective response of the LPS EO community to these questions will help shaping ESA priorities in the EO enabling technologies domain over the next years!
What does it consist of?
The Open Earth Forum is the label identifying a number of activities during the Living Planet Symposium, on site in Bonn and partially online (with the survey) for those who may not attend the event in person.
Open Earth Forum will investigate the topic of enabling (cloud) technologies in Earth Observation, ranging from cloud-based platforms and analytics, mass-processing workflows and architectures, datacubes, open source libraries, toolboxes, Jupyter technologies to Open Science, and beyond.
It includes:
SCIENTIFIC SESSIONS

featuring selected and invited presentations

 AGORAS

giving the opportunity to more interactively discuss and deepen results showcased in the scientific sessions

LIVE DEMOS

held in the centre of the ESA booth, in the OEF Demonstration Area, they will offer live technology demonstrations (typically around 30 minutes) from relevant ESA partner activities

CLASSROOM TRAININGS

consisting of hands-on, in depth tutorials (e.g. 1 -1.5 hours) held in two dedicated rooms close to the exhibition space. Participants bring their own laptops to participate.

USER CONSULTATION SURVEY

created to collect your precious and welcome feedback.
You will find a calendar with details of the scientific sessions and agoras at the end of this post, while all details about demos and trainings are in a previous post.
How and when can you contribute?
Everyone's contribution is essential for the forum.
Its main objective is to act as a dedicated user consultation, in order to understand the impact of activities performed to date (with a focus on Europe), identify weaknesses and gaps and collect your needs to design the best way forward for future programmes and activities in the  context of enabling technologies for EO.
Beyond attending and actively participating to the various sessions, classrooms and live demos in Bonn, you are invited – regardless of your physical presence at the Symposium – to express your point of view via an ONLINE SURVEY you can access and complete already now here below.
The survey is designed not to take too much of your time, and there will be exciting prizes* for a number of survey participants, randomly extracted. Don't hesitate and fill it in now, you will only have time until 05 June 2022.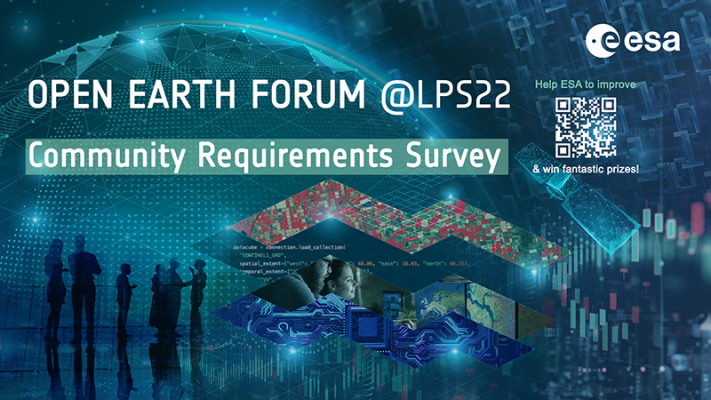 Open Earth Forum calendar at LPS22
*We are offering you the chance to win eGift Cards and choose anything you like from the ESA Space Shop. Make sure to correctly insert you email address in the survey when requested in order to participate in the prize lottery!