WorldCover provides a new baseline global land cover product at 10 m resolution for 2020 based on Sentinel-1 and Sentinel-2 data, developed and validated in 9 months from last data take.
Key end-users, such as FAO, OECD, UNCCD, WRI, CGIAR, and EU DEFIS were an integral part of the project, following the whole project workflow from design up to validation and uptake.
Discover the new product as from today via the dedicated viewer and downloader at: https://worldcover2020.esa.int
Feel free to attend an introductory webinar where you will learn how to access this new open and free product. The project consortium will be available to interact with the participants, discuss the technical specifications of the product, answer specific questions and share feedback.
AGENDA
Introduction of the WorldCover project
Methodology, data and validation
Release of the new WorldCover product and online viewer
How to access the new and free 10 m global land cover product
Interactive discussion
The webinar will take place on Wednesday 20 October, at 15.00 CET.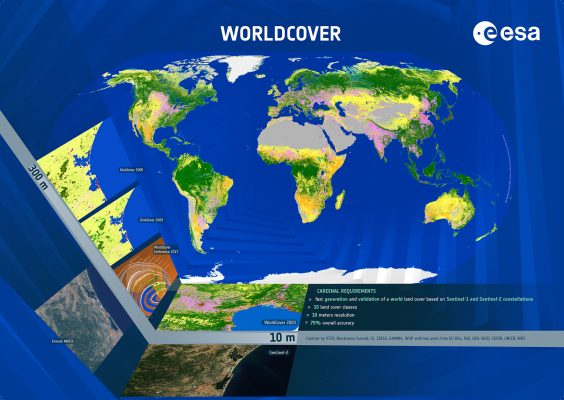 Featured image : WorldCover 10m resolution 2020.  ©ESA WorldCover project 2020. Contains modified Copernicus Sentinel data (2020), processed by ESA WorldCover consortium