Release in collaboration with OGC
In July 2019 the Open Geospatial Consortium (OGC) announced the formation of the Blockchain and Distributed Ledger Technologies Domain Working Group (DWG).
Participants in this new OGC DWG will focus on understanding the importance of, and requirements for, geospatial standardization within these revolutionary, disruptive technologies, reported OGC on its website.
At the 111th OGC Technical Committee meeting recently held in Leuven, Belgium, the Technical Committee approved the appointment of Anna Burzykowska and Dr. Andreas Matheus as the founding Co-Chairs of the DWG. Anna Burzykowska is a projects specialist at the European Space Agency as well as a leader of the emerging practice on Blockchain, Distributed Ledgers and Earth Observation at the ESA's Directorate of Earth Observations Programmes (D/EOP). Dr. Matheus is the founder and Managing Director of Secure Dimensions GmbH, a geo-security company based in Munich, Germany.
Location can play a key role in many of the DLT/Blockchian application areas. For example:
The location of financial transactions can determine what taxes apply;
The location of the boundary of a property forms the basis of its registration and
The location where evidence is discovered at a crime scene can have an impact on judicial proceedings.
Standardisation of the geospatial data representation has been identified as one of the research topics in the ESA White Paper on Earth Observation and Blockchain. At present, there are numerous DLT services and networks available. There is however no standard for how those DLT should encode geospatial information such as location, coordinates, and coordinate reference systems. This situation is likely to lead to a problem of limited interoperability between information held in different DLT networks.
Given the immutable nature of blockchain and DLT, the OGC DWG will focus on resolving the need for standardization of the information encoded within them as any poorly encoded geographic information will remain inherent to a given ledger for as long as it is in use.
In October 2018, OGC published the Discussion Paper Geospatial Standardization of Distributed Ledger Technologies with the purpose of improving the understanding of Blockchain and distributed ledger technologies. One recommendation of the Discussion Paper was to form the OGC BDLT DWG.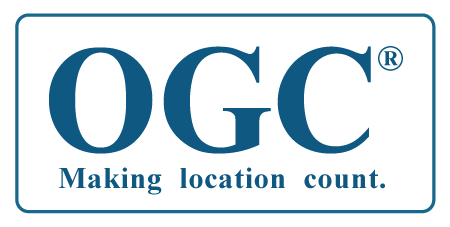 About OGC
The Open Geospatial Consortium (OGC) is an international consortium of more than 525 companies, government agencies, research organizations, and universities participating in a consensus process to develop publicly available geospatial standards. OGC standards support interoperable solutions that 'geo-enable' the Web, wireless & location-based services, and mainstream IT. OGC standards empower technology developers to make location information and services accessible and useful within any application that needs to be location-aware. Visit OGC's website at www.opengeospatial.org.
Featured image : Photo by Hitesh Choudhary on Unsplash