A series of violent and harmful explosions occurred on 3 July afternoon at Stromboli volcano, causing one dead. Glowing hot bombs and lapilli were ejected from all over the summit area and produced an eruption column that rose approx. 3-5 km. A series of fires were caused by the hot debris falling back in the vegetated slopes of the island.
The blast itself was likely the consequence of a gas-rich surge of fresh magma that quickly rose and exploded at the vents. Immediately before, its rise had pushed the overlying magma column out, and lava overflow was observed before the eruption.
The eruption was of paroxysmal type, which refers to violent and sudden phenomena that often see the overflow of primitive, deep magma. Such paroxysmal eruptions usually happen during an intense volcanic activity period but the blast is totally sudden and unpredictable.
An increased volcano activity could be seen during the last couple of weeks from Sentinel-3 SLSTR F1 and F2 channels, processed via the Sentinel-3 World Fire Atlas (S3 WFA).
The World Fire Atlas prototype service
The Near Real Time World Fire Atlas prototype service has been running since the start of 2019 to systematically processes all acquired Sentinel-3A and Sentinel-3B SLSTR Level 1b data over the southern countries of the ESA member states to identify fire events, locating them on an interactive map viewer.
Since beginning of July, an alert service has been added to the functionalities, and any registered user can define an AoI and receive email notifications if a fire events occurs in the area.
The algorithm is using as input data brightness temperature of F1 (MIR) and F2 (TIR) SLSTR Sentinel-3 channels.
While the WFA service has not identified any event on Stromboli since beginning of 2019, a number of alerts have been triggered since mid-June, as can be seen in the sequence of images below.
Sentinel-3 WFA alert locations on Stromboli since beginning of 2019. Contains modified Copernicus Sentinel data processed by ESA on ONDA Copernicus DIAS.
The corresponding input brightness temperatures showed also a sudden peak on 3 July.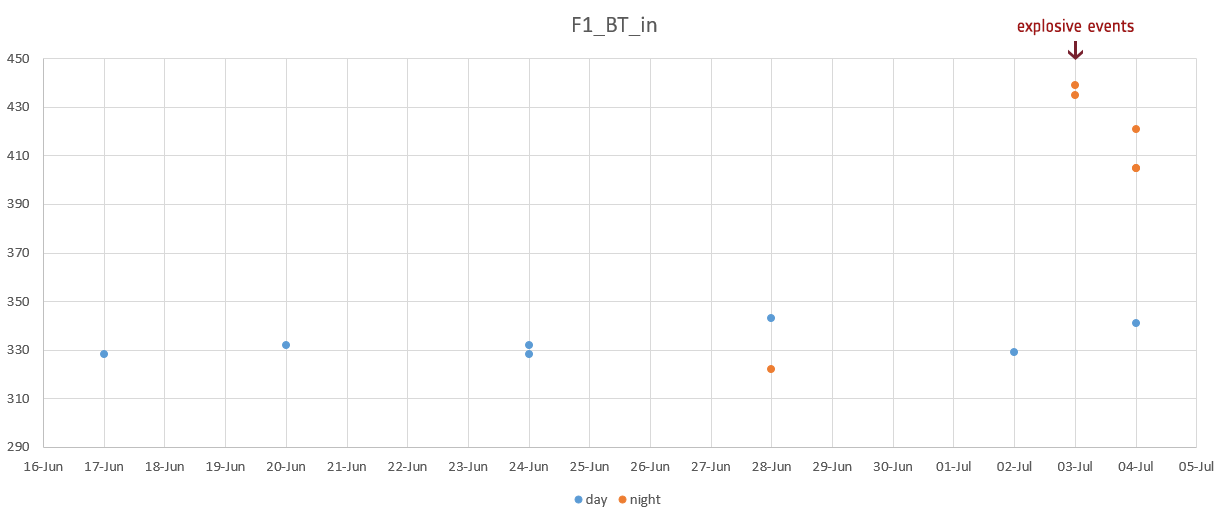 These certainly appear to be interesting inputs calling for additional research and validation of the results.
The S3 WFA fire alert prototype has proven to be effective also in other recent fire events, like the wildfire that broke out at a military training site in Lübtheen, in northern Germany last 30 June.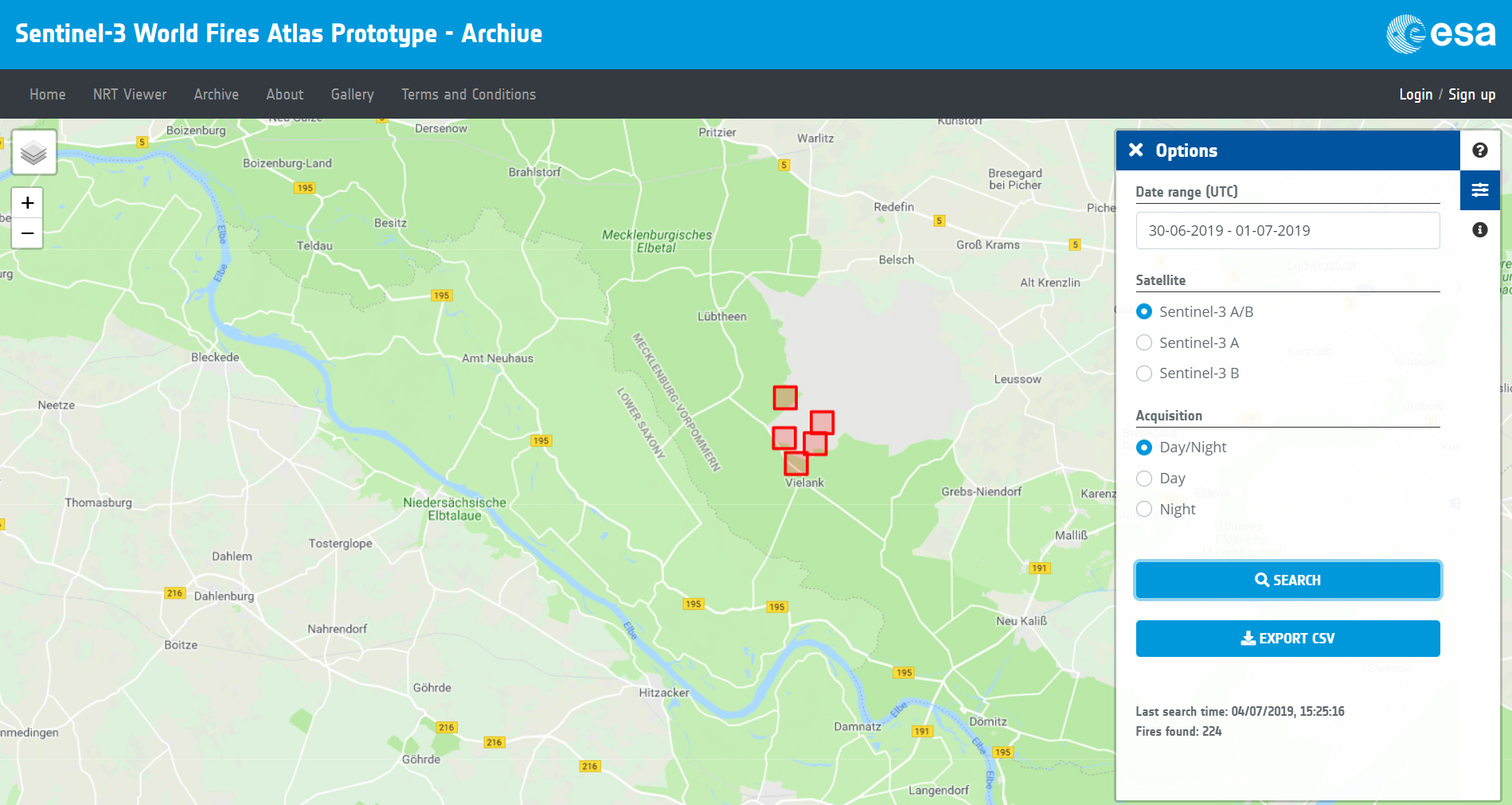 The S3 WFA service is a prototype, does not generate a final/fully validated product yet, and it will be running until the end of this summer. Everyone interested is welcome to register for free and test it.
Featured image : Sentinel-2 SWIR band combination (bands 12, 8A, 4) in the April-July period. The red spots represent hot surfaces (caldera of Stromboli volcano). Only a selection of low cloud coverage acquisitions has been included (Sentinel-2 has a 5-days revisit time). Contains modified Copernicus Sentinel data (2019)