Summary
CAMEO aims to boost the understanding and integration of satellite Earth Observation (EO) services by companies and agencies managing pipeline and energy transmission corridors, including underground electricity cables. This will be achieved by demonstrating the benefits of the EO based services in collaboration with asset managers and in-sector providers that do not traditionally use EO services. CAMEO will complete demonstrations where EO data is combined with traditional on-ground data and cutting-edge data processing and analytics techniques enabling improved monitoring insights.
The two-year project is part of ESA's "Expand Demand" initiatives with a focus on the Security sector.
Natural gas pipeline network in Europe (Source: European Parliament)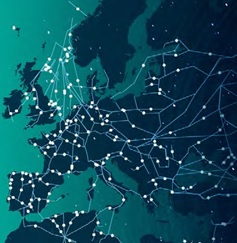 CAMEO OBJECTIVES
Show the added value of EO data to stakeholders in the corridor & asset monitoring domain. This will be addressed by gaining a deep understanding of the information needed by the end users and their working processes, and subsequently showcasing information services to The demonstration services will cover a diversity of environments in which the stakeholders operate, with three broad categories of services:

Structural integrity (e.g. surface deformation, leak occurrence)
Environmental and geo-hazards (e.g. flooding, wildfire, landslides, vegetation change)
Threat assessment (e.g. third-party interference, encroachment)

Implement the services using a "virtual platform" concept, where distributed sources of EO and non-EO data are integrated regardless of where geospatial data is hosted. EO service providers implement services in scalable cloud computing environments with information products combined with other data sources to deliver information to users. In-sector providers or end-users may process the information provided using their own algorithms thus turning the data into information with operational value. The In-sector providers play a crucial role in the solution as they can translate the end-user priorities and requirements and utilize the EO-based services.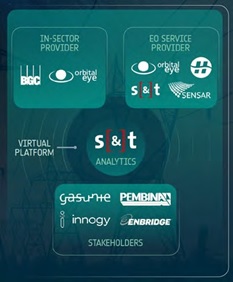 CO-DESIGN APPROACH WITH STAKEHOLDERS
Successful implementation of CAMEO requires participation of stakeholders and end users in the corridor & asset monitoring domain in all stages of the project.

Stakeholders :
Full details in the CAMEO project flyer.
---