How to take advantage of optical satellites with near-simultaneous acquisitions to monitor fast displacements that occur at or near the Earth's surface over large scales?
Replying to this question with respect to spring river ice break-up and associated ice-runs at Northern latitudes was the objective of a study by Living Planet fellow Bas Altena who analysed Sentinel-2 ad PROBA-V data for the purpose.
The study focused on 700km of Lena river, and demonstrates the great value of multi-sensor integration for velocity estimations at large scale.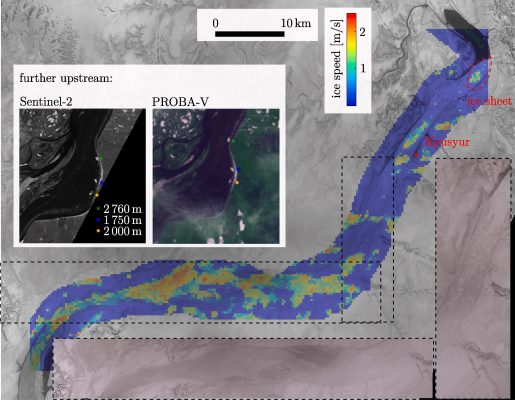 Details of the analysis and results are reported in a paper to be published next June on the International Journal of Applied Earth Observation and Geoinformation.
Altena, B., and Kääb, A.
Quantifying river ice movement through a combination of European satellite monitoring services.
International Journal of Applied Remote sensing and Geo-information, 98, 102315,
https://doi.org/10.1016/j.jag.2021.102315, 2021
Read also the story published on Sentinel Online.
Featured image : Sentinel-2 acquisition over the Lena river in May 2020. Contains modified Copernicus Sentinel data (2020)