The Baltic Sea is one of the most polluted sea areas in the world and prone to eutrophication due to its physical characteristics and nutrient, mineral particle and humic substance loading from the surrounding land. Improved understanding of carbon fluxes between land and sea is essential to ultimately plan and implement protection measures.
Some of the fluxes can be estimated with biogeochemical models but currently only at coarse spatial resolution.
The study conducted within the ESA SeaLaBio project made use of both Sentinel-2 MSI and Sentinel-3 OLCI data to respond to the challenge of:
improving results from biogeochemical models
improving the performance of EO data atmospheric correction algorithms, particularly difficult to optimise in the Baltic sea context, due to the varying types of aerosols and very low water signal.
A new method based on combining the advantages of the C2RCC & POLYMER atmospheric correction (AC) algorithms was developed and proven to output valid reflectance levels in the various conditions encountered in the Baltic Sea, smooth images, no artifacts and good signal contrast. You can find the latest information about the availability of the processor in the project webpage.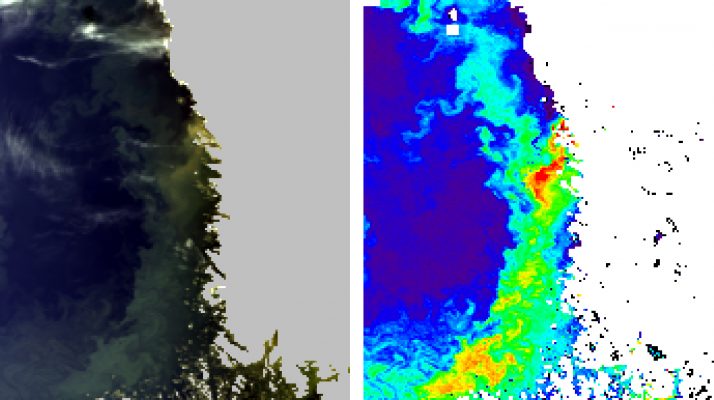 Based on the enhanced AC data, Colored Dissolved Organic Matter (CDOM) absorption from EO data could be estimated and monthly maps are now available for public use on TARKKA. CDOM data was also used to define boundary conditions in the Ecological Regional Ocean Model (ERGOM), which clearly improved the model CDOM representation. These improvements enabled more realistic simulations of phytoplankton and several other state variables. In addition, the ERGOM model was modified by increasing the spatial resolution from 3 n.m. to 1 n.m.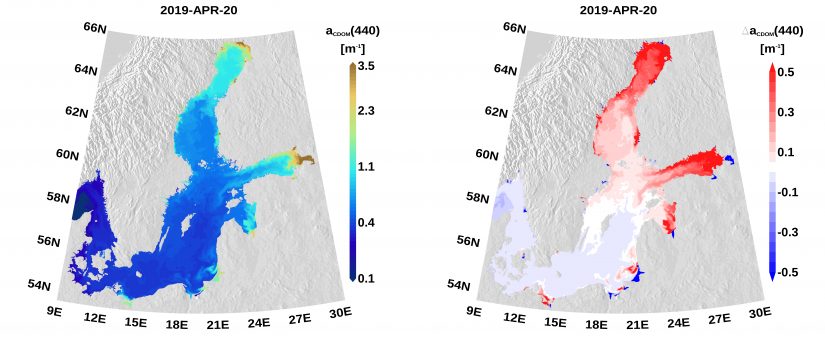 Read more about the project and its results on the project webpage.
Featured image : Baltic Sea (Gulf of Bothnia). Contains modified Copernicus Sentinel data (16 April 2019)