The European Earth Observation sector is currently facing important developments concerning managing of large volumes of EO data coming from Copernicus as well as national European missions. These are already reaching the Petabyte scale and growing along with the needs of the user community to have a real-time and unobstructed access to existing satellite data archives and future acquisitions.
For EO data providers, such as ESA, the need for advanced EO data management solutions implies not only ensuring and facilitating their accessibility and usability, but also implementation of solutions for cloud auditing and the maintenance of data provenance information defined as a "traceability" or "the record of processing steps" which can ensure continuous monitoring of the provenance and quality of EO products and services.
The Blockchain for Space Activities (BC4SA) project is one of the early proofs-of-concept that provided deeper insights into how blockchain technology can be used to independently verify the integrity and provenance of the Earth Observation data sets.  As the data is generated, moved across organizational boundaries and data hubs, and finally ingested into analytics platforms, it is important to mitigate risks of accidental data corruption, processing errors, vulnerabilities such as security violation, data tampering or malicious interference in the databases. The main objective of the project was therefore to showcase the full end to end chain of custody for data through its lifecycle, and solutions that can guarantee data integrity and immutability.
BC4SA was implemented the frame of the ESA General Support Technology Programme (GSTP) through which the European space industry develops leading edge space technologies, foster innovation by creating new products, and facilitate spin-in from outside the space sector.
The 9-month project was funded under the "assessments work stream" to prepare and de-risk technology developments. It was implemented by Guardtime – a software security company – founded in 2007 in Estonia and one of the providers of the "enterprise blockchain" solutions which developed a digital signature system that uses unique hash function cryptography for the management of digital databases.
The technical implementation of the BC4SA project consisted of several steps:
the state-of-the-art DLT technology survey and analysis of potential requirements;
design and development of trusted data sharing process in supply chain including necessary software components;
integration of the developed software onto the selected data acquisition and distribution infrastructures; and
validation and demonstration on identified use cases.
The final report from the Phase 1 is now available.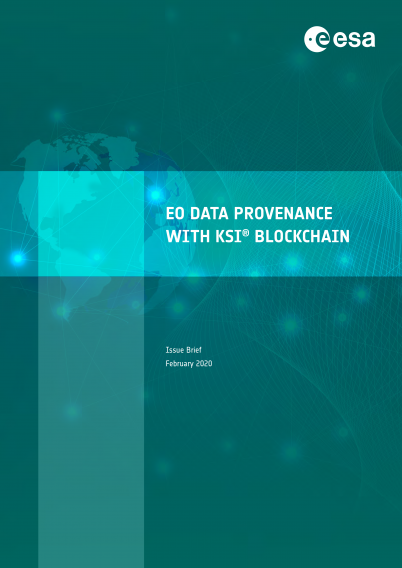 The screencast showing the simulated software stack is provided below: