The Advanced Training Course on Land Remote Sensing: Agriculture is taking place now (16-20 September) at UCLouvain outside Brussels.  During the entire week 92 PhD students, postdocs, specialists and experts from international agencies and the European Commission are following lectures in the morning and doing hands-on exercises using software tools in the afternoon.
The course is the 9th in the series of Advanced Training Course on Land Remote Sensing organized by ESA. The Training Course has now become an annual event, and for the first time this year it is focusing on one particular application domain, i.e. agriculture.
The teachers are world-class experts in remote sensing and application to agriculture from European universities, research institutes and industry. They share their knowledge on remote sensing principles and techniques relevant for agriculture as well as how to use dedicated algorithms and tools in particular with Sentinel data as input.
The participants were selected out of 227 applicants and represent 40 different nationalities coming from institutions of more than 30 different countries, including 19 ESA Members States and 5 Associated Member States and Cooperating States. In a dedicated session on Tuesday afternoon they presented their posters spanning a wide variety of agricultural applications and the entire spectrum from scientific studies on methodology to descriptions of operational use.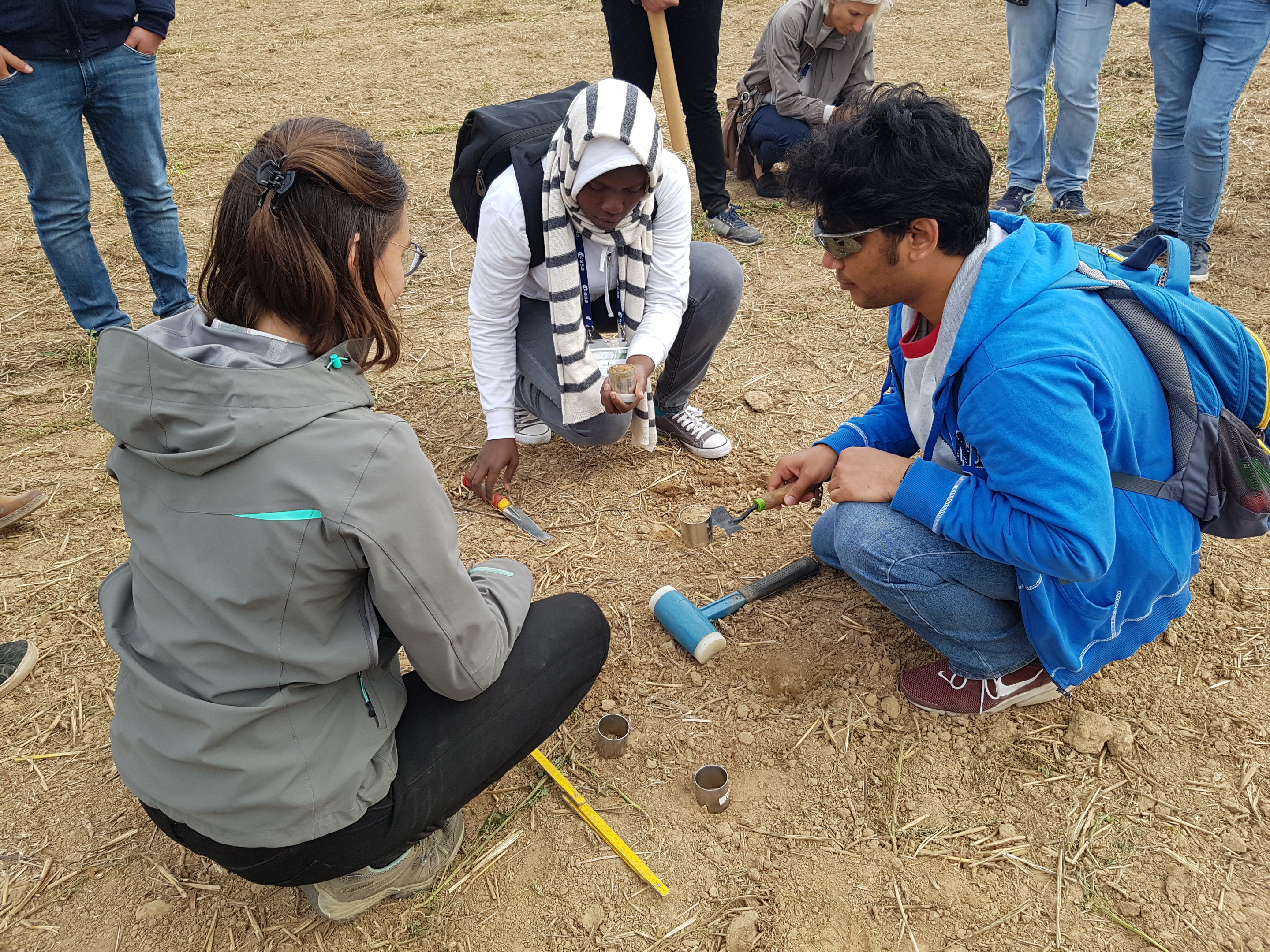 A visit to a nearby field was organized on Wednesday afternoon with the aim to provide practical knowledge for in-situ data collection. Participants were able to use differential GPS and fisheye lens cameras for hemispherical images for Leaf Area Index determination, to take soil samples for soil moisture estimation, and see how car-mounted action cameras can be used for building up a database with crop ground-truth data.
The participants say:
"The lecture on SAR by Ramon Hanssen came straight from his heart, and he was able to transfer his passion to us, it was amazing!"
Francelino Rodrigues, International Maize and Wheat Improvement Center – CIMMYT (CGIAR), Mexico
"We have seen the use of Sentinels for many interesting applications for us, e.g. yield forecast, and in a very practical way."
Yakob Mudesir Seid, Office of Chief Statistician, FAO
"It is very interesting and relevant for all aspects of agriculture."
Hervé  Kerdiles, Joint Research Centre, European Commission
"I came here because we want to integrate our results based on PolInSAR with crop parameter estimation from Sentinel-2. I like that there is a lot of practice and that we learn to work with new tools, and I expect to be able to work in the optical world from now on!"
Noelia, Romero-Puig, PhD-student (PolInSAR for crop monitoring), University of Alicante, Spain
"The course is very well organised with the theoretical lectures in the morning and then we can apply everything we learned directly afterwards in the afternoon. I'm meeting a lot of people, everybody is very enthusiastic, and we are building a network."
Nicola Paciolla, Politecnico di Milano, PhD-student (hydrological models applied to irrigation), Italy
Videos of the lectures, presentation slides and exercise data are available online so that many more can benefit from the course, which was part of ESA's EO Science for Society activities.